Basilisk Blooms was first established by my Father Charlie Piccolo in 1990, after diversifying from sugar cane. The first flowers he tried to grow were gladioli and then he tried his hand at heliconias. It was a relatively new crop to this region, so he started small and gradually built the business into what it is today.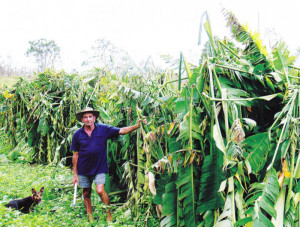 I'm a bricklayer by trade and did not start farming until 2000 when l bought the business from my father. Before Cyclone Larry, business was good. We were sending flowers south to Sydney, Melbourne, Adelaide and Brisbane. Then it all came to an abrupt halt in March 2006. I remember the day before as a beautiful, sunny day and nothing could have prepared us for what was about to happen. We had 16 acres under cultivation, which was all wiped out. It took us three months by hand and in the rain to clean up the farm and another three months after that to rebuild the sheds. We were out of production for ten months. Luckily, I had my trade to fall back on to support my young family.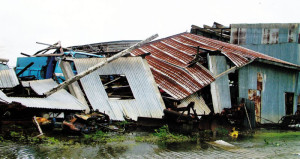 In 2011, we expected a bumper year as all of our flowers would have produced throughout the whole year. Instead, we were hit by yet another cyclone. For us, Yasi was a more powerful system that not only destroyed our crops but also caused substantial damage to our family home. Again, it was back out to the field to clean up. Unfortunately we couldn't save our tall, established plants, as whole clumps were ripped from the ground. However, we had cut our young crops down to prevent twisting and ripping out of the ground which was an idea given to us by a good friend before Yasi. This worked well as the plants were less stressed, the younger shoots grew faster and the plants recovered faster than was expected. We were aided in our clean-up after Yasi by the team at Amcor who supply us with our flower cartons, and also our accountant who brought a small band of helpers which was much appreciated. It took us the same amount of time to clean up as it did after Larry.
I went back to bricklaying again while my wife and father managed the farm. We had to downsize our staff to my wife Heidi, myself and my parents. We are continuing with the same production systems and haven't changed anything in our operations, although we have lost a species of heliconia which we had prior to both cyclones. It has been a slower recovery this time due to the problems in the global economy and the long, cold winter we had last year. People are cutting the fat off their budgets, so they are more willing to buy a loaf of bread than a bunch of flowers. It is only now that we are just starting to match numbers with what our output was back before cyclone Larry. As our business is in a cyclone-prone area, it would be great to take precautions against future events. However, since we grow an open field crop, it is difficult to protect it from devastating winds, so all we can really do is sit and pray that we don't receive too much damage.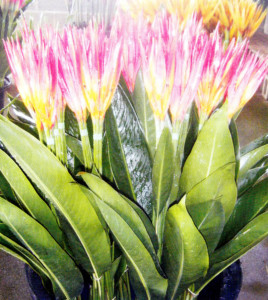 Although it has been a long, hard road, 2013 is looking a little brighter for us. We are looking forward to Valentine's Day and then Mother's Day. Although there is more competition these days from smaller farms that only grow a couple of crops, we remain one of the largest and best established farms in Queensland and have a variety of heliconias, beehives and other gingers. We have a base of great clients who have stuck with us through both cyclones and for that we are grateful.
In our opinion, the outlook for the future of the cut flower industry is bright. There will always be a need for flowers, whether it's for a wedding, funeral, party or even just to brighten someone's clay, and I hope we will always be here to fulfil that need. There is nothing more special than seeing someone's face light up when they receive flowers. That is what gives me enjoyment and makes me get up at some ungodly hour of the morning to pick them.
As for the area that we choose to live in, I wouldn't change it for the world. It's God's country. Mother Nature has tried to knock us down, but we keep getting back up.